Jayne
Senior dental nurse and Radiography qualified Senior dental nurse
GDC No: 118653
Jayne has been working at our practice since 2012, having previously worked locally in a dental practice for some years. Having completed her qualification in dental radiography, as well as a certificate in orthodontic nursing, Jayne is well qualified to undertake her duties as our senior nurse.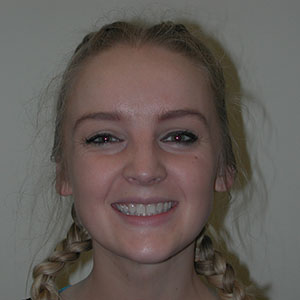 Nikki
Dental nurse
GDC No: 262424
Nikki joined us in 2017, having previously worked in general dental practice for 3 years. She qualified as a dental nurse in 2015, and has gained experience in working with both general dental practitioners as well as implant and oral surgery specialists. With her bubbly and friendly nature, we are proud to have her as part of our nursing team.
Anya
Dental nurse qualified for radiography and impression taking duties
GDC No: 109135
Anya joined us in April 2013 and brings with her many years of dental nursing experience, as well as DIY skills! Anya has worked with orthodontists in the past, as well as a number of experienced general dentists, and as such, provides our team with great experience.
Claire Gillick
Trainee Nurse
Clare rejoined our team in October 2019, having had a 10 year break to raise her  children. Having previously worked at the practice for two years between 2006 and 2008, Clare has fitted back in to the team seamlessly and has a great knowledge of the ethos of our practice, from its early years.Clare is currently re-registering with the General Dental Council to allow her to nurse at the practice in the near future, as well as looking after her husband and 3 boys.
Suha Hamad
Trainee Nurse
Suha moved to England in the summer of 2019, having qualified as a dentist in Sudan in 2012, and then working as a dentist in Saudi Arabia from 2015 to 2019. Having now joined her husband in Hertfordshire, Suha started working as a trainee dental nurse at our practice in October 2019, and has settled well in to our team. Not only does she have a good understanding of orthodontics, she also provides us with exotic traditional Sudanese deserts!